Become an Industry Partner
Financial support from the National Sorghum Producer Industry Partner Program allows us to be the best in the world at representing the U.S. sorghum industry and sorghum farmers. NSP thanks our partners for helping provide the resources needed to help the industry maintain full momentum. With new markets constantly in development for grain, sweet and high biomass forage sorghum, we find the industry constantly has new doors of opportunity opening. From biofuels to bird seed, sorghum is making its place among major commodities. If you are looking to connect with sorghum producers, NSP offers numerous opportunities to help put your company into the minds of growers.
Download the 2019 Industry Partner Program Information Packet.
For more information about becoming a NSP Industry Partner, please contact Jamaca Battin.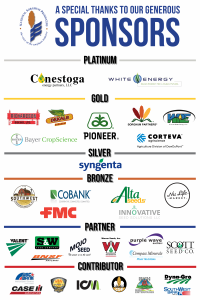 Partner Directory:
Mojo Seed
Pioneer
Purple Wave Auction
Richardson Seeds, LTD.
Scott Seed Co.
Shield Agricultural Equipment
Sorghum Partners
Southwest Agribusiness Consulting, Inc.
SouthWest Bank
Stoller USA
S&W Seed Company
Syngenta
Valent
Warner Seeds, Inc.
Western Plains Energy, LLC
White Energy