A Tribute to Bruce Maunder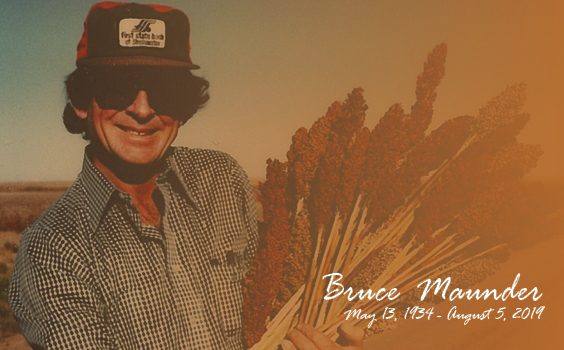 This week, National Sorghum Producers says goodbye to a friend, mentor and exceptional man, Dr. Bruce Maunder, who passed away August 5, 2019. Maunder was a lifetime advocate for sorghum and a man admired throughout the industry for his dedication to the crop—and for the people he inspired along the way. Maunder's commitment to the industry has made his name synonymous with sorghum to this day.
Early Life
Bruce was born May 13, 1934, in Holdrege, Nebraska. He grew up from 1939 until 1950 in Lincoln, Nebraska, with summers often near Grand Island, Nebraska, on an irrigated farm developed by his maternal grandfather who settled there from Germany in the 1800s. This contrasted with his paternal, distant grandfather who was traced to Governor Bradford of the 1620 pilgrims.
Bruce graduated from both the Overseas High School of Rome, Italy, as well as Northeast High School of Lincoln, Nebraska, in 1952. His bachelor's degree in agronomy was awarded by the University of Nebraska in 1956 and his Master of Science and Ph.D. were from Purdue University in plant breeding and genetics in 1958 and 1960, respectively.
A Career in Sorghum
Dr. Maunder accepted a sorghum breeding position with DEKALB Genetics in Lubbock, Texas, in 1960 with responsibility for worldwide sorghum improvement, having products from this program in as many as 49 countries and grown on as many as 10 million acres. He became a Senior Vice President of DEKALB in 1991, retiring after 37 years in 1996. Following active plant breeding, Bruce accepted an offer to volunteer with the National Sorghum Producers for 20 years as a Research Adviser and as manager of the National Sorghum Foundation.
Additionally, Dr. Maunder served as an adjunct professor at Texas Tech University. He also held numerous national positions, including President of the Crop Science Society; on the board of Diversity magazine; on the World Food Prize under Dr. Norman Borlaug, his favorite mentor; and the Sorghum Crop Germplasm Committee at USDA. For some 21 years, he was active with the USAID INTSORMIL program as chair of the external evaluation panel.
Besides the development of improved hybrid sorghums, Bruce was especially proud of Honorary Doctorate degrees in Science and Agriculture received from both the University of Nebraska as well as Purdue University. In addition to many distinguished service awards, he was presented the Monsanto Crop Science Distinguished Career award in 2000.
Honoring Dr. Maunder
Bruce dedicated over 60 years of his life to the sorghum industry, and it is easy to say he has had one of the greatest impacts on sorghum not only in the United States but world-wide. His efforts created progress in crop technology and shifted sorghum research in a profound way.
"Bruce was a dear friend, mentor, and champion of sorghum," National Sorghum Foundation Chairman Larry Lambright said. "His contributions to our crop were significant and are well documented. As a plant breeder his focus was on product improvement thus enabling the farmer to be more profitable."
"In his time volunteering at National Sorghum Producers, he continued his dedication of promoting and supporting sorghum improvement and utilization," Lambright added. "As Chairman of the National Sorghum Foundation, Bruce was dedicated to enabling deserving students to pursue their academic goals through scholarships provided by the foundation."
NSP will be forever grateful for the lasting legacy Bruce has left behind. He was devoted to sorghum and the people within the industry. Bruce taught us the importance of helping others, and he has inspired many who knew him.
"Bruce was a passionate supporter of sorghum and a great mentor to me personally," NSP CEO Tim Lust said. "He showed others the value and importance of detail and supported the industry in every way he could. He will be deeply missed."
Condolences
The sorghum community sends our sincere thoughts and prayers to the Maunder family. Cards and condolences may be sent to the family of Dr. Bruce Maunder at Kathy Maunder, 4511 9th Street, Lubbock, TX 79416.
Donations can be made to the National Sorghum Foundation in honor and memory of Bruce at SorghumGrowers.com/foundation. Proceeds benefit scholarships for college students, a program Bruce was so passionate about and devoted to; together, with his wife Kathy, the Maunders have supported scholarships and other funds through the National Sorghum Foundation and at seven universities.
To read more about Dr. Maunder and his legacy to the sorghum industry, you can read a tribute to him in the Summer 2017 issue of Sorghum Grower magazine.