Sorghum PAC Auction | 2018


Sorghum PAC is the bipartisan political action committee of the National Sorghum Producers, created by the NSP board of directors in 2010 to advance the political interests of sorghum producers. The Sorghum PAC helps elect and re-elect Senators and Members of Congress who support sorghum producers and a strong, effective sorghum industry. Doing so helps producers sustain their farms and ranches for future generations with constructive farm policy.
Casino Night and Auction at Commodity Classic
Join the National Sorghum Producers for a Casino Night and auction at Commodity Classic in Anaheim, California. Heavy hor'dorves and refreshments served.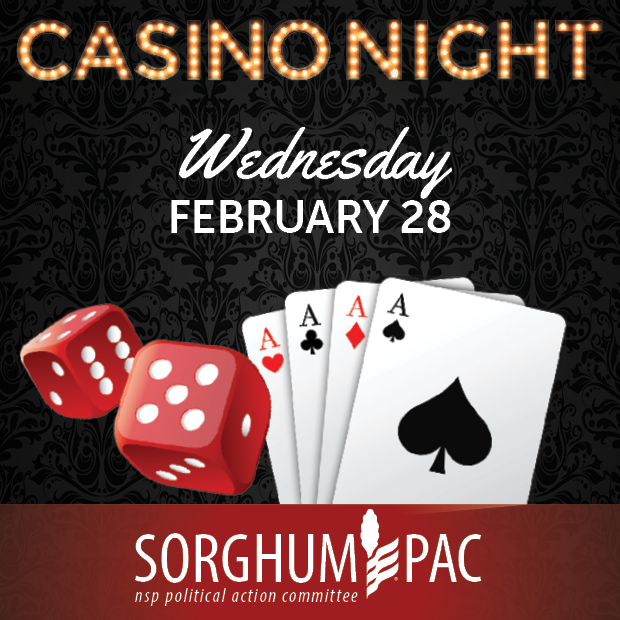 Event at a Glance
Sorghum PAC Casino Night and Auction
Wednesday, February 28, 2018
8:30 – 11:00 p.m.
Hilton Anaheim
Pacific C Ballroom
Ticket cost $50 per person.
Call the National Sorghum Producers office to reserve your ticket: 806-749-3478. Ticket purchase also available at Sorghum PAC booth near Commodity Classic Registration or at the door.
Live Auction
Live auction will be held Wednesday, February 28 during the PAC event.
Attendance
The Casino Night and Auction is an event to raise money for Sorghum PAC, thus only members of National Sorghum Producers may attend.
Individuals may contribute a maximum of $5,000 per year. Federal election law requires the National Sorghum Producers PAC to report the name, mailing address, occupation and name of the employer that each individual whose contributions aggregate in excess of $200 in a calendar year.