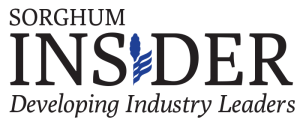 Get an inside look at the sorghum industry like never before – September 6-7 – Lubbock, Texas
Sorghum Insider is NSP's exclusive two-day program that takes industry partners, elevators and end-users through the entire U.S. sorghum industry while covering important issues impacting production, policy, markets and more.
Featured Speakers
Dr. John Burke, USDA-ARS Laboratory Director and Research Leader
Tom Sell, Combest Sell & Associates Co-Founder and Managing Partner
Tim Lust, National Sorghum Producers CEO
Florentino Lopez, Sorghum Checkoff Executive Director
John Duff, Sorghum Checkoff Renewables Director
Dr. Justin Weinheimer, Sorghum Checkoff Crop Improvement Director
Topics Addressed
Sorghum 101 – Industry and Demographics
Sorghum – From Research and the Farm to the Table and Beyond
Sorghum's Role in Renewable Energy
Sorghum Market Opportunities
Crop Improvement
NSP's Role in the Legislative and Regulatory Process
Tour Events
White Energy
Legacy Dairy, Dairy and Forage Tour
Food Grade Sorghum Tour with grower Glenn Schur
USDA-ARS breeding plot tour and presentation
New this year! Sorghum Insider participants will have the opportunity to interact with up-and-coming sorghum farmer leaders, members of Leadership Sorghum Class III. Sorghum Insider also features a tour of the sorghum industry, including sorghum operations, USDA-ARS, nurseries and ethanol plants.
Space is limited, RSVP today! Sorghum Insider is limited to 15 participants. For more information, contact Shelley Heinrich at (806) 749-3478 or shelleyh@sorghumgrowers.com.
Registration includes all meals. Participants are responsible for their own travel costs and hotel accommodations.