SORGHUM E-Notes
June 22, 2017
NATIONAL SORGHUM PRODUCERS:
the voice of the sorghum industry
NSP Submits Comments on Proposed Revisions to Biotech Regulations
National Sorghum Producers submitted comments this week to the Federal Register on the United States Department of Agriculture's proposed revisions to its biotechnology regulations (7 CFR part 340). NSP also sent a letter to the Federal Register along with more than 100 other organizations and stakeholders that outlined both the positive aspects and the shortcomings of the revisions. Read the letter here.
Chick-Fil-A Introduces Gluten-Free Bun Made with Sorghum
This week, the popular Chick-Fil-A chain announced the addition of a new bun to their menu. The gluten-free bun, which is made with ground sorghum, quinoa and amaranth and is lightly sweetened with molasses and raisins, comes individually packaged and can be ordered with any of the chain's sandwich offerings. Read more about this new bun option in Today's article or on Chick-Fil-A's website.
NSP Extends Sympathy to Y.F. Snodgrass Family
National Sorghum Producers extends its sympathy to the family of Y.F. Snodgrass, a former field representative with Texas Sorghum Producers and NSP, who passed away June 16 after a short battle with cancer. Visitation will be held Sunday, June 25, from 4-5:30 p.m. at the Abell Funeral Home in Abernathy, Texas. A memorial service will be held Monday, June 26, at 1:00 p.m. In lieu of flowers, the family suggests memorials to the Abernathy First Baptist Church General Fund or to Gideons International. Read the full obituary here.
House Ag Holds Ag Research Hearing
The House Agriculture Committee held a hearing today to discuss the farm bill's role in agricultural research at colleges and universities. Witnesses at the hearing included: Robert Duncan, Chancellor of Texas Tech University System and Steven H. Tallant, Ph.D., President of Texas A&M University – Kingsville. Chairman Mike Conaway (R-TX) said, "Farmers and ranchers have long depended on advances in science and innovation to carry on through tough economic times. The current state of the rural economy only further underscores the need to continue making key investments in our agricultural research system. While serious budget issues must be addressed, we must do so without jeopardizing our status as the world leader in cutting-edge agricultural research."
China Trade Team Visit
A team of 12 Chinese grain buyers are visiting the Sorghum Belt this week to further develop and strengthen the relationships between Chinese sorghum buyers and U.S. suppliers. The team is composed of top leading sorghum professionals whose imports account for more than 50 percent of China's total sorghum imports from the U.S. Throughout the course of the week, the team will have field visits in sorghum-producing states, ethanol plant and feed mill tours and attend training seminars at universities. These visits will result in a better understanding of crop conditions and quality, sorghum use in the U.S. feed industry and enable them to gain a better understanding of grain sorghum as a valuable feed ingredient.
Calling all Century Farm Owners
If you own a Century Farm, we want to hear your story! Please email jennifer@sorghumgrowers.com or call 800-658-9808.
Grain Sorghum, Replant Considerations
Throughout the southwest, farmers are faced with tough decisions following hailed out cotton and drought conditions. With planting deadlines looming, decisions to replant or fallow along with insurance considerations and hybrid selection must be made soon. Sorghum is a great replant option for those looking to take advantage of investments already made for failed crops. Brent Bean, director of agronomy for the Sorghum Checkoff, is reminding growers there are options to minimize planting risks this time of year. To read more, visit sorghumcheckoff.com.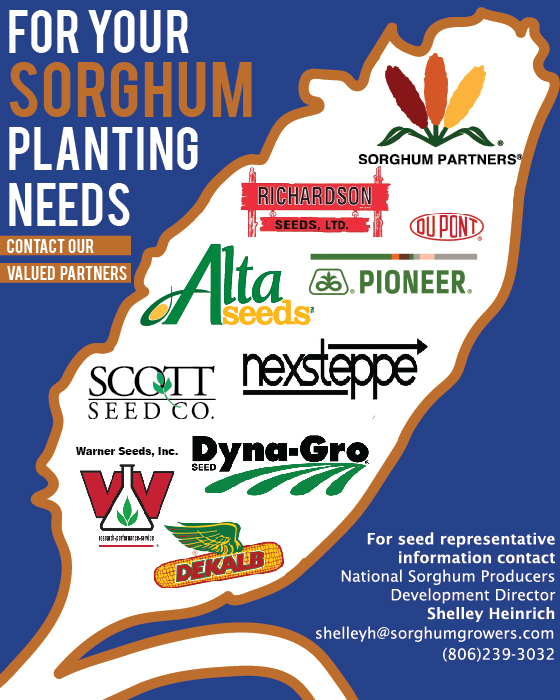 Export Report
Sorghum exports remained strong this week with China committing to purchase 2.3 million bushels. Total commitments for the year are up to 174 million bushels, bringing the amount of sorghum committed to international destinations to 80 percent of the USDA export target. Export pace in 2017 continues to remain ahead of the five-year average pace and on track with last year's average pace of the USDA target. Prices on the Gulf Coast were stable for July delivery at 113 percent corn prices or $4.625. New crop interior bids continue to strengthen with sorghum closing the parity with corn in parts of central Kansas and above corn in parts of central South Dakota.
Crop Update
Producers had planted 86 percent of this year's sorghum by week's end, equal to last year but slightly ahead of the 5-year average. Favorable weather in Colorado and Kansas spurred fieldwork, allowing planting progress to advance by 38 and 25 percentage points, respectively, during the week. Heading advanced to 17 percent complete by June 18, equal to last year but slightly behind the 5-year average. Overall, 66 percent of the sorghum was reported in good to excellent condition, down slightly from last week and 4 percentage points lower than at the same time last year.
Sorghum in the Spotlight:

Sorghum May Be Alternative to Corn – California Ag Today
Replanting Failed Cotton to Grain Sorghum Offers Production, Insurance Options – Southwest Farm Press
Oklahoma Sorghum Growers Facing Decisions about their Crop – Altus Times
Budget Operating Costs if Planting Sorghum in June – High Plains Journal
Sorghum's a Good Replacement – KGNC
Upcoming Sorghum Events  
June 19-30         China Trade Team to Texas and Kansas
June 25-28         IFT 2017 (Institute of Food Technologists) – Las Vegas, NV
July 4                Independence Day (NSP Office closed)
July 6-8             TACC Annual Elevator Managers Meeting – Ruidoso, NM
For a full view of calendar events, visit the NSP website calendar.
Market News – To view this week's Gulf export grain report, click here.
Sign Up to Receive the Sorghum Checkoff e-Newsletter
Sorghum producers can also receive monthly e-newsletters from the United Sorghum Checkoff Program. To receive monthly news and information regarding the Sorghum Checkoff's efforts in sorghum research, education and market development, sign up here. You can also follow the Sorghum Checkoff on Twitter @SorghumCheckoff.
 About Sorghum Notes
Sorghum Notes is a publication of the National Sorghum Producers. NSP represents U.S. sorghum producers and serves as the voice of the sorghum industry from coast to coast through education and legislative and regulatory representation. 
Quote of the Week
"If your actions inspire others to dream more, learn more, do more and become more, you are a leader."
-John Quincy Adams