SORGHUM E-Notes
June 15, 2017
NATIONAL SORGHUM PRODUCERS:
the voice of the sorghum industry
Senate Ag, Nutrition, and Forestry Committee Hearing on Past and Future Research
The U.S. Senate Committee on Agriculture, Nutrition, and Forestry held a hearing today to review farm bill research programs and U.S. Department of Agriculture implementation of research activities. Chairman Pat Roberts (R-KS) said in his opening statement, "Today, there are additional challenges. Farmers are combatting new pests and diseases, and unpredictable weather patterns… We will need to find ways to do more with less, to reduce burdens of over-regulation, and ask tough questions as we reexamine programs to determine their effectiveness and if they are serving their intended purposes." To see panel testimony from the hearing, click here.
Senate Appropriations Committee Reviews USDA Budget
The U.S. Senate Agriculture Appropriations Committee held a hearing earlier this week to hear testimony from Secretary of Agriculture Sonny Perdue on USDA's budget proposal. In his opening statement, Chairman John Hoeven (R-ND) said agriculture has already done its fair share by reducing spending in the current farm bill and should no longer be responsible for balancing the budget. Ranking Member Jeff Merkley (D-OR) also criticized the administration for the cuts, including the elimination of more than 20 research programs while full committee Chairman Thad Cochran (R-MS) expressed support for the research programs conducted at USDA. Secretary Perdue admitted research is an area where the Administration missed the mark and promised to work toward improving that given agriculture innovation heavily relies on research.
House Ag Committee Listening Sessions Commence
The House Agriculture Committee is launching the first meeting in a series of listening sessions June 24 in Gainesville, Florida. The various sessions will take place around the country to gather input for the next farm bill, giving sorghum farmers an opportunity to express important policies to their farming operation. The remainder of the schedule is yet to be determined, but National Sorghum Producers will keep members abreast of future schedule updates.
Legislative Hearing Held on the Consumer and Fuel Retailer Choice Act
The Senate Committee on Environment and Public Works held a hearing on June 14 to discuss S. 517. The proposed legislation, known as "The Consumer and Fuel Retailer Choice Act," was introduced by Sen. Deb Fischer, a Republican from Nebraska. The legislation would extend the Reid Vapor Pressure (RVP) waiver to E15, enabling convenience stores and other marketers to sell the fuel year-round. The lack of an RVP waiver has become the largest single obstacle to greater E15 adoption, and ethanol industry leaders were pleased with the outcome of the hearing.
Researchers, Save the Date
The Sorghum Improvement Conference of North America will take place Jan. 29-31, 2018, at the Donald Danforth Plant Science Center in St. Louis, Missouri. SICNA is the largest gathering of research scientist in sorghum whose mission is to promote communication and collaboration in research and development among sorghum researchers and stakeholders in cooperation with universities, research centers, public institutions and private entities. SICNA also strives to link scientists and researchers with sorghum producers and industry representatives to help drive innovation and discovery in response to the industry's greatest challenges. More updates on the 2018 event will become available at sicna.net.
Export Report
Sorghum exports picked up this week with China and Mexico committing to purchase 2.4 million bushels. China committed to purchase 2.1 million bushels, signaling a continued strong demand by China for U.S. sorghum. Total commitments for the year are up to 172 million bushels, bringing the amount of sorghum committed to international destinations to 79 percent of the USDA export target. Export pace in 2017 remains ahead of the 5 year average pace and on track with last year's average pace of the USDA target. Prices on the Gulf Coast were stable for July delivery at 114 percent corn prices or $4.64. New crop interior bids for the first time this year showed signs of strength with sorghum increasing to near parity with corn in parts of central Kansas and above corn in parts of central South Dakota.
Considering Your Plant and Re-plant Options Still?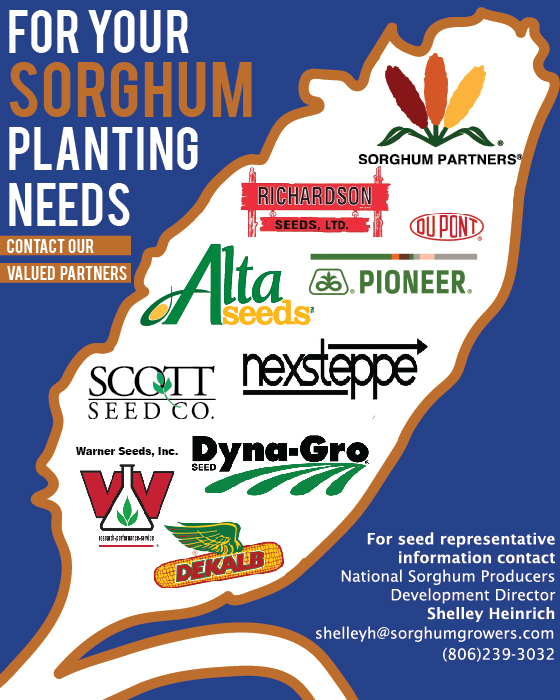 Crop Update
Seventy-one percent of the nation's sorghum was planted by week's end, 2 percentage points behind both last year and the 5-year average. Kansas producers planted 27 percent of their crop during the week. This brought planting in Kansas to 52 percent complete by week's end, 8 percentage points behind the 5-year average. Sixteen percent of the nation's sorghum was headed by June 11, two percentage points ahead of last year and 3 points ahead of the 5-year average. Overall, 67 percent of the sorghum was reported in good to excellent condition, 4 percentage points lower than at the same time last year.
Sorghum in the Spotlight
Sorghum growers face management decisions – Ag Journal
Sorghum x Sudangrass, a real "slump buster" – Ohio Country Journal, Ohio Ag Net
Sorghum: Health food, sweetener, now clothing dye – The Altus Times
Policy Work Continues As New Growing Season Begins – KGNC AM NewsTalk
Upcoming Sorghum Events  
June 16              McLennan County Row Crop Tour-Westside, Crawford, Texas
June 19-30         China Trade Team to Texas and Kansas
June 25-28          IFT 2017 (Institute of Food Technologists)
For a full view of calendar events, visit the NSP website calendar.
Market News – To view this week's Gulf export grain report, click here.
Sign Up to Receive the Sorghum Checkoff e-Newsletter
Sorghum producers can also receive monthly e-newsletters from the United Sorghum Checkoff Program. To receive monthly news and information regarding the Sorghum Checkoff's efforts in sorghum research, education and market development, sign up here. You can also follow the Sorghum Checkoff on Twitter @SorghumCheckoff.
 About Sorghum Notes
Sorghum Notes is a publication of the National Sorghum Producers. NSP represents U.S. sorghum producers and serves as the voice of the sorghum industry from coast to coast through education and legislative and regulatory representation. 
Quote of the Week
"I believe that every right implies a responsibility; every opportunity an obligation; every possession a duty."
-John D. Rockefeller, Jr.